5
Students Speak about Strategic Sorcery Course and Global Success Rites.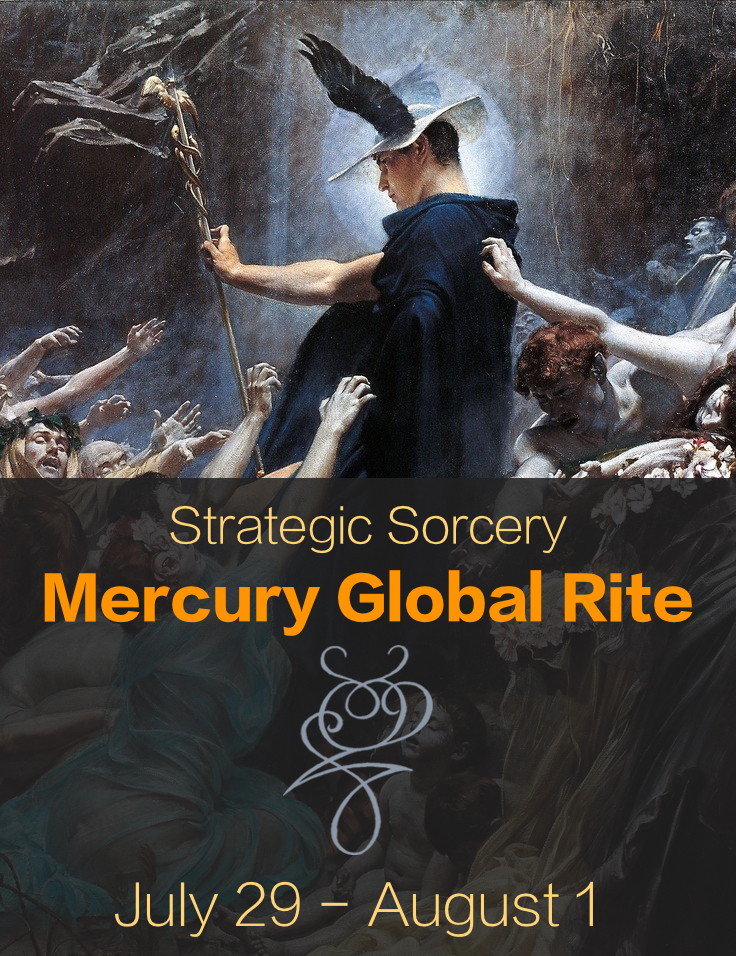 THE RITE:
Look at that pic above. Mercury leading the damned and the dead to a better place. Its all about movement people. If you are not moving forward you are sliding backwards – this rite is aimed at setting your trajectory in the direction you desire and setting you in motion. Maybe you are in debt and unemployed. Maybe you are lonely or unhappy. Maybe you are already comfortable and want to grow your empire. Whatever it is movement is the key to magic – not static goals.
But to join with us in the rite (and all the global rites to follow) you have to join the course. If you want in on the Global Rite you need to join before July 29th.
STUDENTS ON THE COURSE AND RITES
Over 1200 people have now taken the Strategic Sorcery Course. Rather than blab more about it myself,  I asked some students to answer the question for me: Why should people join the course and take part in the global rites?
"Id say the Courses and rites are part of a whole multi-layered metaphysical experience, Global rites allow you to take on a magical current either to deepen or diverse the strengths and progress you might want to either kick-start or continue, learn while you ride the lightning." – JL
"Joining this course was probably the best decision I've ever made in my occult life. Since signing up, studying the lessons, applying the techniques, and participating in the rites, my life has catapulted forward after a year of stagnation! – JC
The global rites are the nitrous boosting abilties to take your practice and life to another level. There is results, and then there Are RESULTS. Which do you prefer? – JF
"Strategic Sorcery teaches many invaluable lessons from a highly knowledgeable teacher. The techniques taught are very good on their own, but even more value lies in the very approach to magic that is taught in this course. Since working with Jason's methodology, I've seen my magical practice and success in life soar. Additionally, Jason has been providing Global Rites focused on spiritual forces that will help catalyze all of the above. It is honestly the best money I have ever spent, as these lessons will last a lifetime for me." – JD

For me, the lessons are the theories to learn, then as a consistent motivation and active application to practice is the audios, global rites, and recommended exercises in the lessons. Pulling us out of our armchairs and into the universe. – HLG
Join the course. Do the rites, particularly when the global rites come your way—not because it will make you a more powerful magician (though it will) or a more skillful human (though it will do that, too). Do it, because this is how you hook on to the zipline: there is a complex, astonishing, feet-off-the-ground adventure of new vistas and experiences ahead, and this course is a way of entering that experience. The course is a way of strapping into the safety harness; the rite is the first step off the ledge.  – AW
For me, this course has been a game changer in all aspects of my life. The biggest impact has been financially with a return of investment of several thousands percent. Additionally, when I had a situation in my life that had to be taken care of, I had guidance and resources to solve the problem. Quite frankly, I don't think you charge enough for this year long course, it is worth much, MUCH more!! – LC
Frankly, this connected me to the spirit world in a more tangible way than anything else I have tried so far. The results were unmistakeable and very big. That is all I can say without writing a novel at this point. The Gods and Goddesses chosen for the Global Rites seem eager to respond and help you – JZ (no, not THAT Jay-Z)
"$10k closed contract one week after the Juno rite (paid in full). $60k closed contract 2 weeks ago, shortly after my Gator Hand arrived and I placed her in my newly painted cash box. Fortunately, money has been coming to me, but I've had a terrible managing it and keeping the money (my husband always did these things). But, I'm on the road to financial disaster recovery with a new budget and a financial coach to help me. This is something I've never been motivated to do until I read your book and called upon some spirits to help me. It's made a world of difference in how I feel." – LC
THE COURSE
$150 for 52 lessons in practical Sorcery. I have had beginners take the course and finish with amazing success stories, and I have had very experienced people take the course and walk away with new and better frameworks to take advantage of their decades of experience.
Work at your own pace, participate in HUGE rites with people all over the globe, and be part of the most focused and successful occult community I have ever seen.
If you want to know more about it write me at inominandum+strategicsorcery@gmail.com with the words STRATEGIC SORCERY in the subject line. If you are ready to sign up. just hit the paypal link below.